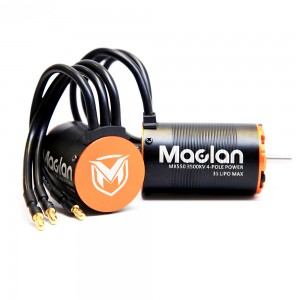 Maclan Racing is pleased to announce the release of our all new Diamondback MX series brushless motors. The Diamondback MX series comes in 2 sizes and 4 KV options. The Diamondback MX series has a very friendly price tag with surprisingly high quality finish and performance. The 12-slot/ 4-pole design aims on all 1/10 surface applications from 2WD buggy to 4WD SC. The all aluminum rebuildable structure design allows this motor to have best durability and life span in its class.
The MX540 is a 36mm x 50mm 540 class motor with 3.17mm motor shaft. It has 2 KV options, 4000KV and 5000KV, to support all 1/10 2WD applications, 2WD buggy, 2WD stadium truck, and 2WD SC.
The MX550 is a longer 550 class in size of 36mm x 60mm.  It provides 30% more power than the shorter MX540 with it's heavy duty 5mm motor shaft for all 4WD applications such as 4WD SC and monster truck.
Both MX540 and MX550 have options to run 3S Li-Po for speed demand drivers. Simply pick the size and KV for your car. It will give a totally new experience to drive your RC cars. Please visit Diamondback MX product page for more information.