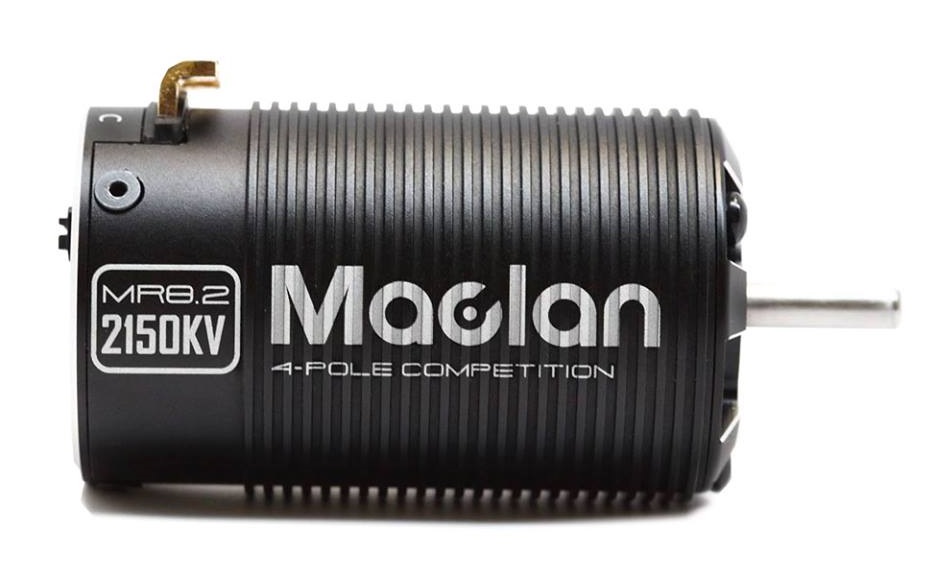 MR8.2 1/8TH SCALE COMPETITION MOTOR
Need some SMOOTH Raw Power!?
The all new MR8.2 series is the answer for you. It adapts the latest hall sensor technology with ultra-precision craftsmanship. The MR8.2 series will deliver the most sophisticated raw power with incredible smoothness for your 1/8th scale applications.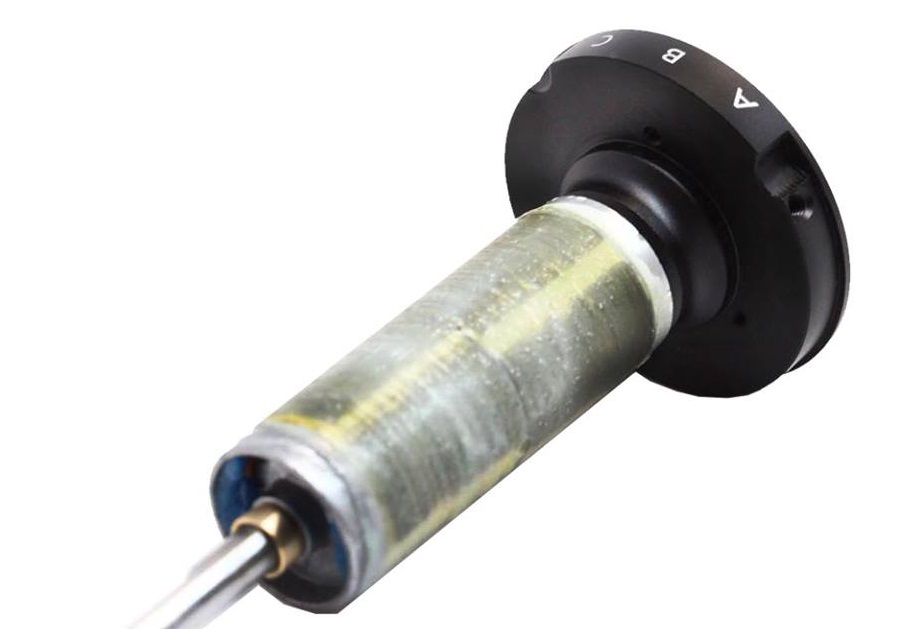 All New Staggered 4-Pole-8-Magnet Rotor 
The MR8.2 series has a 12-slot stator with strong staggered 4-pole-8-magnet rotor design in all KV options. This design provides a smooth and low cogging power band through out all RPM range. Along with the dual-side balanced rotor, it will increase durability and also smoothness of the power output.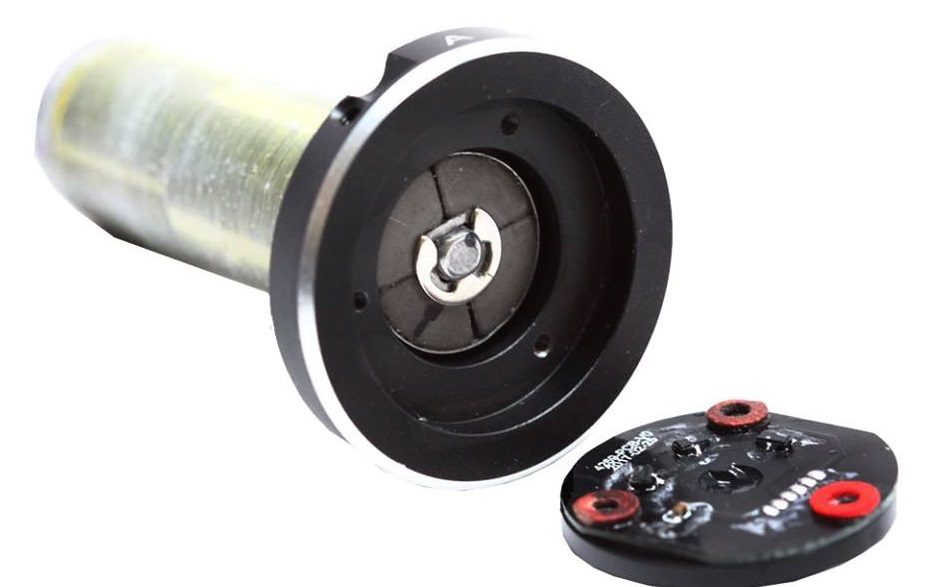 All New Error-Free Sensor Unit
The all new error-free sensor unit design, with separated sensor magnet, will minimize the signal noise that often damages an ESC.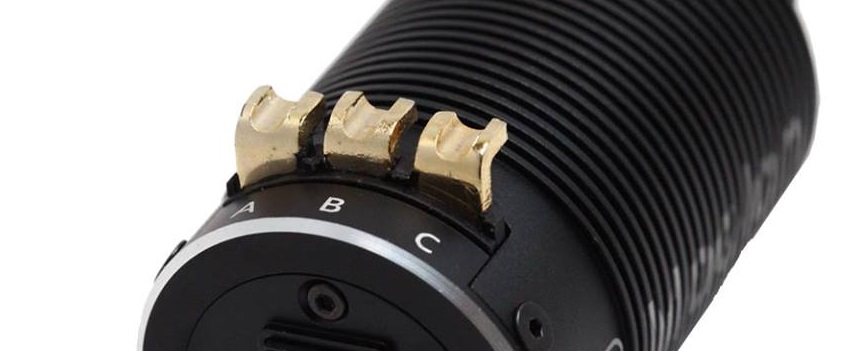 All New Heavy Duty Gold Plated Solder Tabs
The MR8.2 is upgraded with gold plated heavy duty solder tabs. It will make the soldering job a lot easier during the setup with much better durability.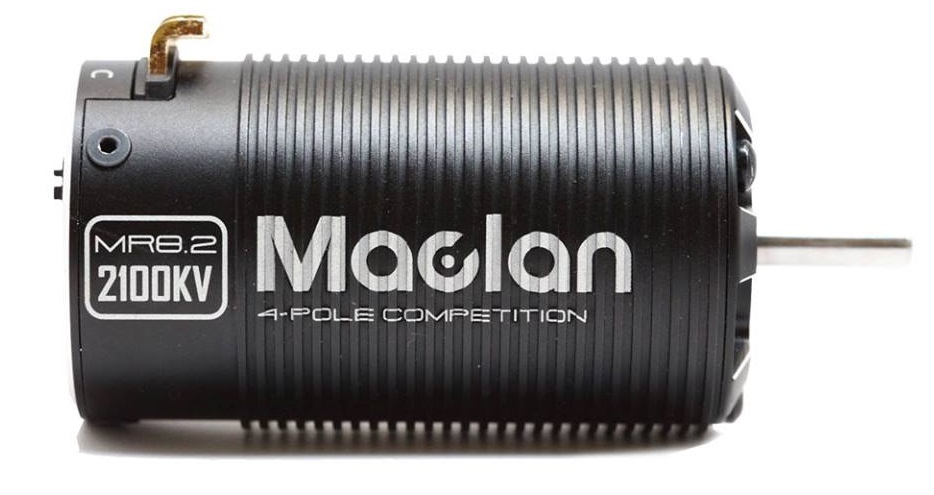 MR8.2 Now Offers 2100KV Truggy Option
The all new MR8.2 now also offers a longer size option in 2100KV for TRUGGY applications.
MR8.2 Motor Features
Error free sensor unit design.
Staggered 4-pole-8-magnet with dual side balanced rotor design.
Heavy duty solder tabs.
Over sized precision dual ball bearings.
Completely rebuildable design with all parts readily available from Maclan Racing.
New 2100KV TRUGGY option.
ROAR approved. 
MR8.2 1/8th Scale Competition Motor
Detailed Specifications
| MR8.2 1500KV Buggy Motor | Value |
| --- | --- |
| KV Rating: | 1500 |
| Case Length: | 71mm/2.79in |
| Case Diameter: | 42mm/1.65in |
| Shaft Extension: | 17mm/0.67in |
| Shaft Diameter: | 5mm/.125in |
| Weight: | 350g |
| Poles: | 4-Pole |
| Max Li-Po Cell: | 6S |
| P/N: | MCL1029 |
| MR8.2 1950KV Buggy Motor | Value |
| --- | --- |
| KV Rating: | 1950KV |
| Case Length: | 71mm/2.79in |
| Case Diameter: | 42mm/1.65in |
| Shaft Extension: | 17mm/0.67in |
| Shaft Diameter: | 5mm/.125in |
| Weight: | 350g |
| Poles: | 4-Pole |
| Max Li-Po Cell: | 4S |
| P/N: | MCL1030 |
| MR8.2 2150KV Buggy Motor | Value |
| --- | --- |
| KV Rating: | 2150KV |
| Case Length: | 71mm/2.79in |
| Case Diameter: | 42mm/1.65in |
| Shaft Extension: | 17mm/0.67in |
| Shaft Diameter: | 5mm/.125in |
| Weight: | 355g |
| Poles: | 4-Pole |
| Max Li-Po Cell: | 4S |
| P/N: | MCL1031 |
| MR8.2 2100KV Truggy Motor | Value |
| --- | --- |
| KV Rating: | 2100KV |
| Case Length: | TBA |
| Case Diameter: | 42mm/1.65in |
| Shaft Extension: | 17mm/0.67in |
| Shaft Diameter: | 5mm/.125in |
| Weight: | 370g |
| Poles: | 4-Pole |
| Max Li-Po Cell: | 4S |
| P/N: | MCL1032 |