The Maclan Racing ProLink is an integral part of programming MMax ESCs. With the recent 3.0 ESC firmware release, the ProLink will need a mandatory firmware update in order to work properly with the new ESC 3.0 firmware platform. This new ProLink firmware is also backward compatible with all existing MMax firmware versions for those who decide to stay with the current firmware version. Make sure you have the latest V1.9 installed on the ProLink if you wish to use the new features included with the 3.0 software platform.
To verify your version, check the power on screen: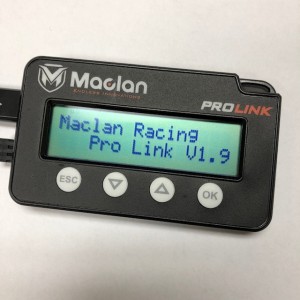 To update your ProLink, click here for instructions, or click here for a video reference.